The new KINDduro deploys a machine learning technology where every sound that passes through the hearing aids is then compared to the 12 million real-life sound files embedded onto the 64-channel sound processing chip to deliver a natural sounding wearing experience. The result is an additional 15% increase in speech understanding even in a noisy environment when compared to a previous generation technology.
This is possible as the hearing aids can now scan the environment 500 times per second and then precisely organise the sounds around to deliver a more natural sound experience that creates contrast and balance between the sounds in the environment.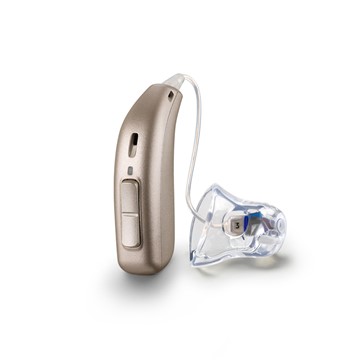 KINDduro


Next Level Bluetooth Connectivity
Runs on Bluetooth's new Low Energy Audio protocol for direct audio streaming to Made For iPhone (MFi) devices and for Android devices with Android 10 & Bluetooth 5.0 via the new Audio Streaming for Hearing Aids protocol (ASHA).
Lithium-ion Rechargeability
Fully charge in just 3 hours for a full day's use even on streaming mode. A quick charge of 30 mins gives 6 hours of power.
Water and Dust resistant
An IP68 rating for moisture and dust protection is considered suitable even for the humid and balmy living conditions of Singapore.
KINDduro supports hearing loss from mild to severe and available in 3 technology levels; KINDduro 5420R (premium), KINDduro 4420R (comfort) and KINDduro 3420R (basic).